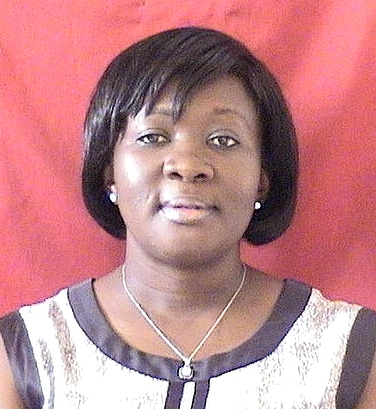 Yvonne Baiden
Assistant Registrar
Department

HRD (Staff Training and Development)
Email

ybaiden.reg@knust.edu.gh
Office-location
Research-areas
Yvonne Baiden is an Assistant Registrar at the Human Resource Development Division of the Registrar's Offices as the schedule officer in charge of Staff Training and Development. Her duties at the division include: provision of assistance to the Deputy Registrar (HRD); interpretation and ensuring adherence to relevant policies on sabbatical leave, study leave, leave of absence, secondment, etc; planning and organisation of staff training and development related issues for consideration by appropriate committee; serving as the Secretary to Scholarships Committee and Research and Conference Committee. Prior to her current schedule, she was the Hospital Administrator at the University Hospital, KNUST. She served on various Committees at the Hospital as well as the University.
She obtained her Masters Degree in International Business and Human Resource Management from De Montfort University, Leicester, U.K. She also holds a Bachelor of Arts Degree in Social Sciences (French and Geography) from Kwame Nkrumah University of Science and Technology and an Advanced Diploma in French Studies from Universite Cheikh Anta Diop, Dakar, Senegal. She had her secondary school education (GCE Advanced and Ordinary Levels) at St Louis Secondary School, Kumasi and her primary level education at University Primary School, KNUST.
Prior to her appointment at KNUST, she was the Executive Secretary at 'Investing in Empowerment International (IEI)', Ghana/Canada, a Non-governmental organisation with the mandate of helping to eliminate poverty in Africa and the rest of the world.
Yvonne has a cumulative working experience in human resource management, office management and administration, operations management and project management. She has a strong background and hands-on experience in the management and training of staff as well as human resource procedures and assistance. She possesses administrative skills with exposure in all facets of administrative and clerical work in addition to competence in handling diversified workload and meeting deadlines.
She works well within a team and also has the ability to work independently, solve problems and follow through initiatives whilst maintaining a high level of confidentiality. She has excellent communication and top notch interpersonal skills. She has the desire to help people extensively, coupled with the passion of making an impact in peoples' lives.
Yvonne loves cooking, playing squash and spending time with friends and family.